wedding rings that are on-trend right now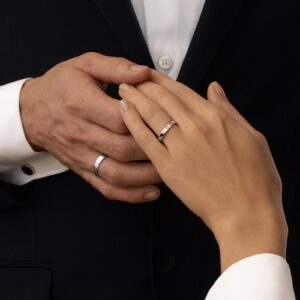 While men like to stick to the classics and to put comfort first, women often think differently. They see the wedding ring as an opportunity to acquire a piece of jewelry that will express their personality and style. Fortunately, today it is no longer the case that a wedding ring is supposed to be identical for both the woman and the man. This is probably the most significant change from the past and it opens up new possibilities. And the range of choices is very wide. So what are the most significant current trends in wedding rings that are worth paying attention to?
A perfectly matched pair
The choice of wedding rings is usually preceded by the choice of an engagement ring. But if you don't want to leave matching your rings to chance, you could rely on specially designed ring sets. The selected sets are very imaginative and together the rings in a set form a visually impressive whole that resembles one distinctive piece rather than two separate rings. Of course, the rings can also be separated and worn individually.
A stellar diamond sparkle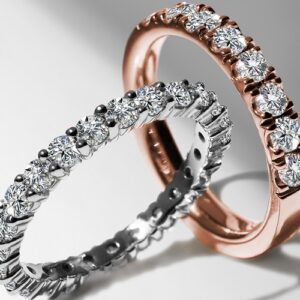 "Think of a wedding ring also as a fashion accessory," advises Jarmila Slívová, owner of the KLENOTA Jewelry Studio. Their collection features both classic minimalist models as well as imaginative and original ring designs.
Do you have a soft spot for diamonds? When it comes to women's wedding rings, you'll most often come across eternity designs, where the band is generously set with smaller diamonds, all in a single row. The result is an elegant ring that is absolutely timeless.
Materials that look beautiful for an entire lifetime
Both of you will most probably wear your wedding rings every day which means that they should be able to keep their nice appearance for decades, ideally with minimum care. So, whatever your lifestyle, it pays to choose materials that are quality and that have a high durability.  When it comes to metals, 14K gold and platinum in particular meet these requirements.  With gold however, there is also more variety since you can choose from three color options. 
Opt for a surface texture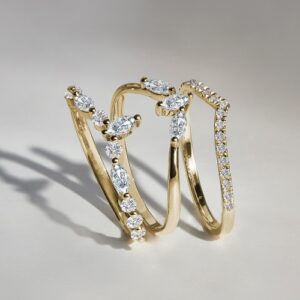 An unusual surface finish can add an interesting look to an otherwise simple ring. A rougher surface has its advantages over a polished finish. It shows less wear and tear with frequent use and will retain its original appearance for a long time.
An interesting shape adds to the overall effect
With their characteristic pointed shape, chevron rings are a very attractive option. The point makes them perfect for layering and combining, since the central stone of an engagement ring can fit beautifully into the tip to create a harmonious whole. Chevron rings can be completely plain, but they can also be set with diamonds of various shapes. But you should always choose the right ring for you based on your intuition and, above all, choose it with your heart.